My kindergartener loves "activities" and she loves to "do crafts" with mommy, so I was thrilled when I found the recipe for this incredibly lifelike snow on Pinterest. The idea, originally referred to as frozen ice sand, came from a fabulous blog called Growing a Jeweled Rose.
We called ours snow, and oh, how my little girl loves her some snow!
The awesome thing? It only takes two ingredients!
The even awesomer awesome thing? She played with it for an hour and 40 minutes! Say what? Oh yah- you heard me! Now that's an activity mommy likes. A lot!
If you have kids or grandkids, nieces, nephews, or other precious kiddos in your life, you just have to try this affordable and engaging sensory activity.
Start with an empty tub with a lid and two ingredients: epsom salt and glitter.
I let my daughter dump the epsom salt into the tub- so fun!
Then I sprinkled in "Dazzling Diamonds" glitter- a great opportunity for her to be patient and let others have a turn.
Next, we put it in the freezer. (Mine was half empty due to being overdue for a trip to the grocery store.)
We left it in the freezer while we went to pick up her three big brothers from school and we when came back, we had sparkly, magical, amazing snow!
We both sunk our hands in to the icy cold "snow".
Then I got out a few kitchen utensils and she played…
and played…
and played!
(Mittens optional.)
Need some Glitter? Click on the image below and you'll be taken to my online store.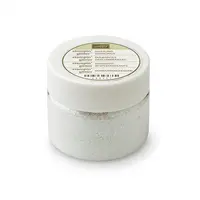 Happy stampin' friends!
Michelle